899 South Cleveland Avenue, St. Paul  55116, sometimes called Cleveland Hi-Rise, is a public housing project near the heart of Highland Village.  Built in 1970, 899 S. Cleveland has 12 floors and 144 one-bedroom apartments.
View from Highland Village Shopping Center parking lot on 9-1-2020.
Building website photo, above right.
What's particularly noteworthy about the 'junk pile' atop this building is that damage to, and morbidity of, the surrounding trees in sight-line with the towers, is visibly, very evident.  In May 2020 I visited this site and recorded some measurements.  And by now (September 2020), the radiation is much higher.  To view spring 2020 readings dated May 3, click here.  The tenants had been notified that new equipment was being turned on for Verizon in late April.   It's troubling to note that the radiation measurements are now FOUR TIMES HIGHER THAN THEY WERE LAST MAY.
Checking out the sad state of the trees (video might take time to load):
Reading Date:  September 1, 2020     Time:  6:00 pm
RF Measurements on the grounds in the back of the building where these trees are ailing varied, and peaked at 8.5400 mW/m2.  
---
Gallery of photos from Behind the Building, discussed in video above.  Click any photo to enlarge.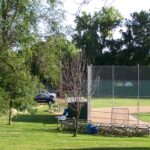 ---
RF radiation In Front of the Building, along Cleveland Avenue measured at a peak of 4.5910 mW/m2.
---
INSIDE THE BUILDING — TOP FLOOR
RF measurements varied from 0.8540 mW/m2 (and -30.4 dBm) at the elevator bay, to 6.190 mW/m2 while walking through the hall to the other end of the building.
Update: April 6, 2021 —  Top Floor RF radiation peaked at 17.0 mW/m2!  This is almost 3 x the peak measurement in September 2020.
It appears that the cell masts belong to several telecom service providers.
---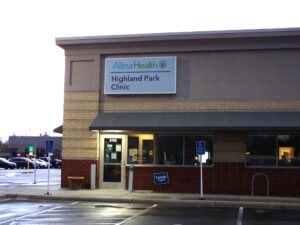 Yet the highest measurements I recorded that day were from the Highland Village Center Shopping Mall parking lot, two to three blocks north with a clear line of sight to the face of the towers.    RF peak measured at 45.9100 mW/m2 in the far field.  These towers are blanketing the area with dangerous, intense radiation.  
***
Update April 6, 2021 from Highland Village Center Shopping Mall parking lot:  By now, Wells Fargo Bank building has added cell tower masts to its roof across Ford Parkway, and the combination of the additional radiation is creating one of the hottest spots I've documented in the Twin Cities.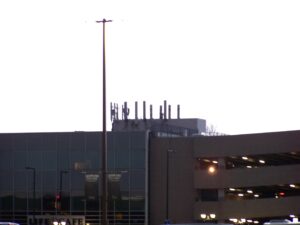 Peak RF measurement on April 6, 2021 at 7:14 pm in the parking lot between these two towers measured 141 mW/m2 which is EXTREMELY high and dangerous to human health.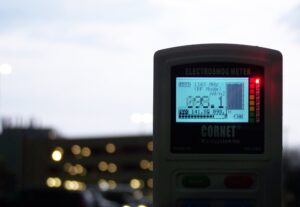 The telecoms KNOW the danger of their equipment radiation on human health and Nature.  Wireless health issues are NOT covered by insurance, and 5G was listed as the top insurance risk by Swiss Re at the end of 2019.  This profiteering via repression of health information to the public is unconscionable.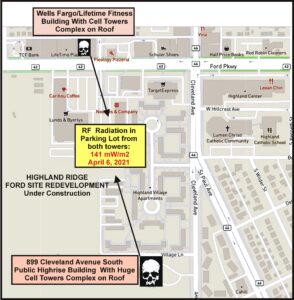 ---
---