ST. PAUL FIRE STATION NO. 14 is at 111 Snelling Avenue North, 55104 and has a cell tower on its roof.
Reading date:  December 19, 2019       4:30 pm       Peak RF reading is 2.14 mW/m2.   
---
SNELLING AVENUE AND RANDOLPH STREET INTERSECTION, at the southwest corner, atop an apartment building is an array of cells facing the four directions.
Reading date:  December 29, 2019      Time:  4:25 pm       Standing across the street in the Walgreen's parking lot, peak RF measured 6.19 mw/m2 and 1.21 V/m.
---
TARGET STORE ON UNIVERSITY AT HAMLINE AVENUE, small cell on light pole by the parking lot entrance off Hamline – December 2, 2019   11:30 am:  Peak radiation 14.18 mW/m2, measured from across Hamline.
---
BY WAAMO AUTO BODY REPAIR at 817 Vandalia Street, between Vandalia and North Hampshire streets.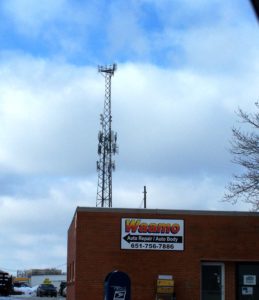 Reading date:  December 16, 2019       1:45 pm
A peak reading of 11.53 mW/m2 was recorded from about 60 feet away.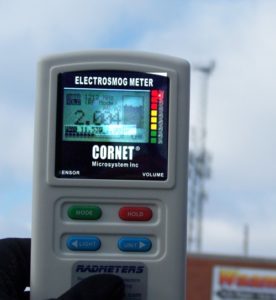 ---