St. Paul Schools are listed below with outdoor readings taken where cell towers are visible on the roofs and near play or athletic areas, or where readings are higher than they should be due to nearby cell towers.
These readings are OUTSIDE ONLY.  Those schools that have cell towers on their roofs and immediate property, definitely have more of an EMF/R problem inside as well, but the indoor environments have not been measured by me.
See also the list of St. Paul Schools with no apparent cell towers or their increased levels of toxic, unhealthy, stressful EMFs and radiation.  Undoubtedly radiation indoors in all of the schools is high anyway, with wireless routers and the children's cellphones and devices.  I believe Waldorf Schools are the only ones I've heard of that keep wireless radiation out of the school buildings.
---
CENTRAL HIGH SCHOOL is located at 275 Lexington Parkway North, 55104.  There are no cell towers visible on this school, but its location is in a high radiation zone, as University Avenue runs in front of it, and a building bristling with cell towers is just a block or two away.
Reading Date:  January 5, 2020    Time:  2:30 pm     Peak RF as measured from the parking lot in the back of the school is 3.999 mW/m2.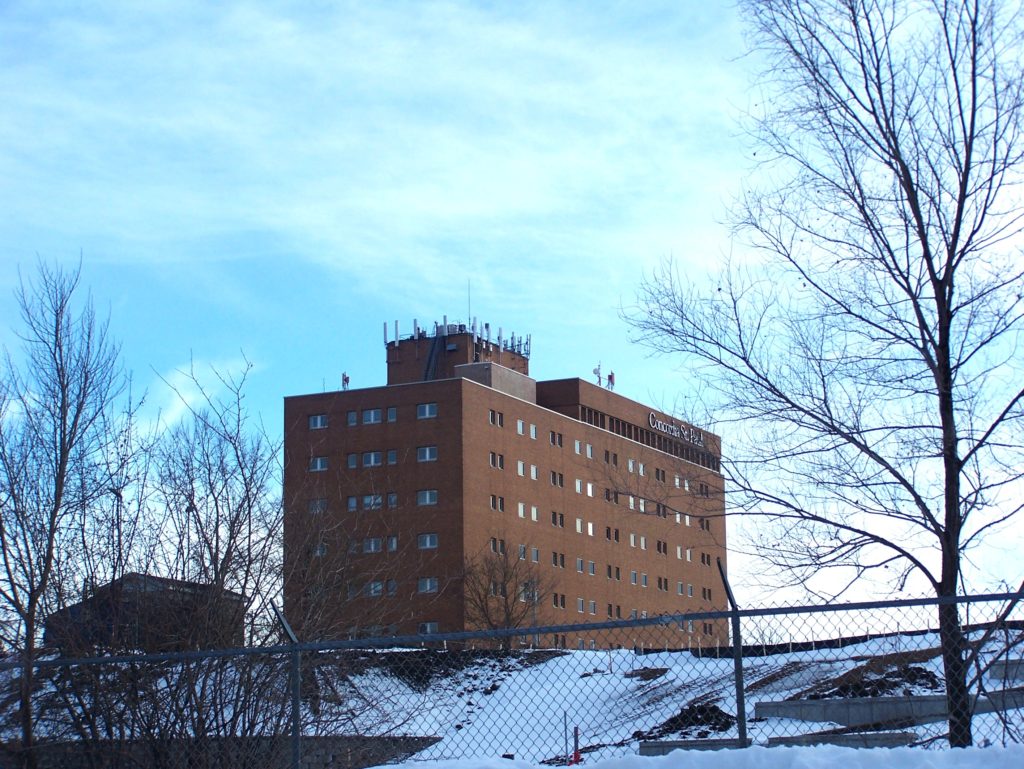 <  This building behind the school irradiates the area heavily, and is the likely cause of the high reading in the parking lot.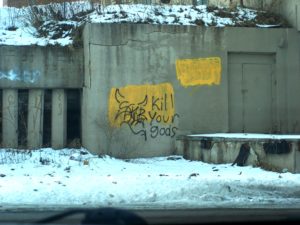 Graffiti across from the parking lot seemed appropo to me.
---
NOVA CLASSICAL ACADEMY is a charter school located at 1455 Victoria Way, St Paul, MN 55102.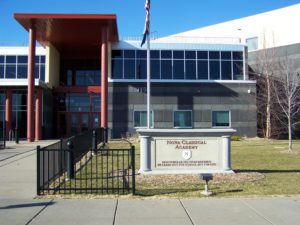 The school is currently closed for coronavirus precautions.
Reading date:  March 30, 2020      Time:  4:30 pm
This school is located just two blocks from West Seventh Street — one of the highest RF radiation areas in St. Paul, which is lined with numerous standalone cell towers, and towers on buildings almost everywhere you look.  West Seventh Street is one of the first corridors to be listed as in the developing stages for 5G.
Though there are no visible cell towers on the school itself, nor is there a large tower visible in any direction from the school itself, the radiation  in the outdoor play area and athletic field is very high.
RF radiation at the athletic field peaked from 1-2 mW/m2.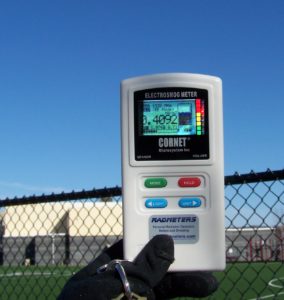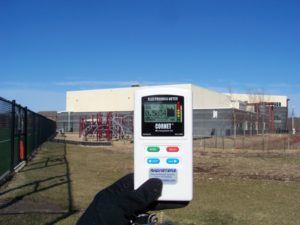 RF radiation near the playground area measured 4.1 and 3.9 mW/m2; a dangerous environment for children to spend time in.
The front of the school measured 0.854 mW/m2 which is high for no visible cell tower in the area.  I witnessed two dogs being walked nearby, barking aggressively at each other and acting intensely which was not surprising.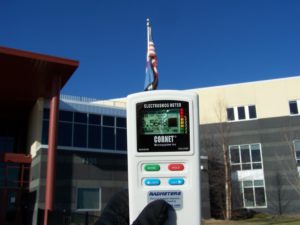 A contributor could be the cell tower on a corner of the Otto Avenue and Seventh Street West — the Shaller Family Sholom East Campus building.  But this tower is not visible from the playground or the school front, and shouldn't be that much of a problem.  I took a quick measurement from a half block away and it did not measure up to 1 mW/m2.  It was sad to see a small garden plot right next to this tower.  The radiation it emits will compromise the health and quality of whatever someone plans to grow there.
The high radiation in the play area and athletic field appeared to be sourcing from the school itself though no tower is visible.
---
MONROE COMMUNITY SCHOOL is located at 810 Palace Avenue, 55102.  This school has a cell tower on its roof.
Date:  November 7, 2019         Time:  10:00 am
Reading at the playground area across the street:  1.3240 mW/m2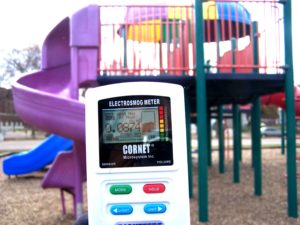 Reading at the far side of the playground, facing the tower on the roof:  2.0500 mW/m2
---
---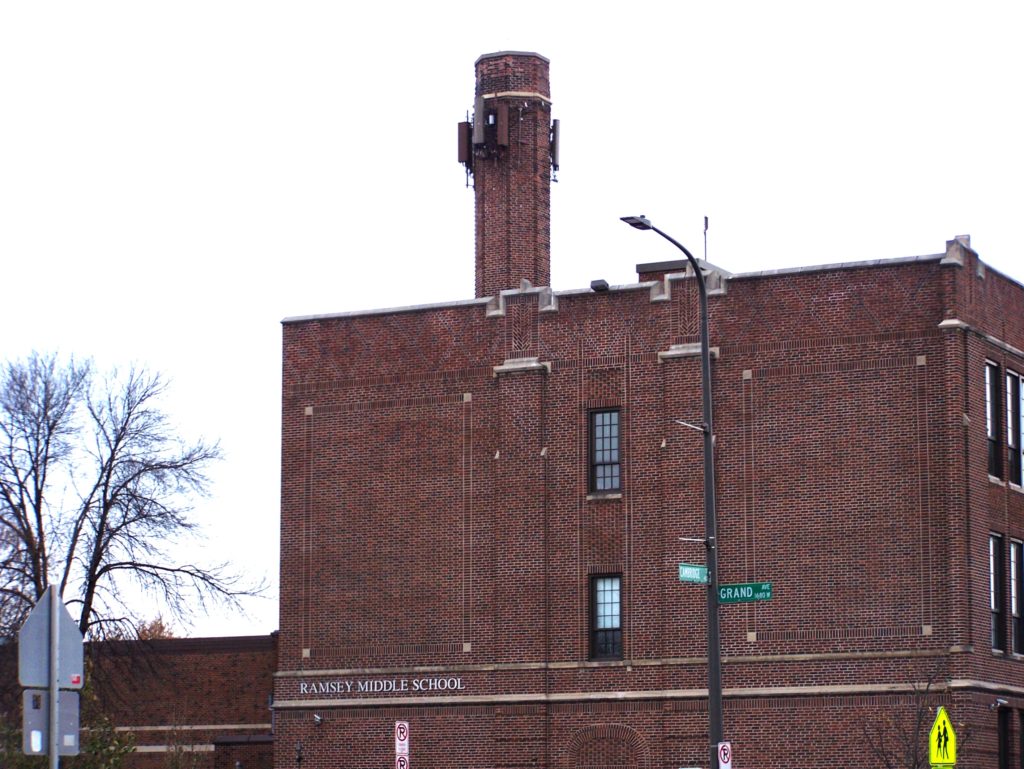 RAMSEY MIDDLE SCHOOL is located at 1700 Summit Ave.  55105 and has a cell tower on its roof.
Reading Date:  November 12, 2019                Time:  4:00 pm
Readings were taken across the street kitty korner by Ace Hardware, at the intersection of Grand Avenue and Cambridge Street, about the same distance away as the sports field to the left of the school.
Peak reading is 4.09 mW/m2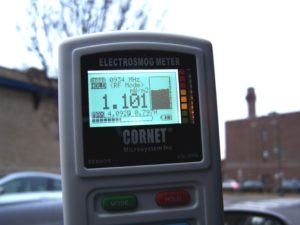 SEE ALSO the cell tower on Grand Avenue within one block from this school.
---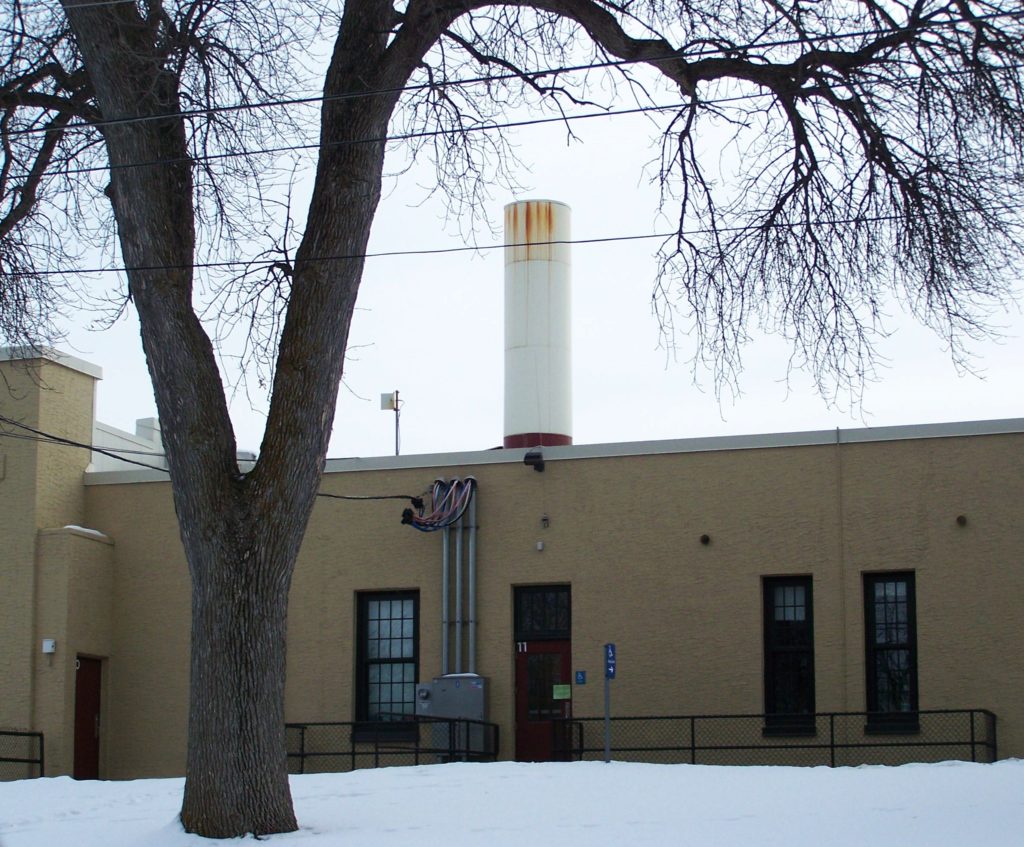 RANDOLPH HEIGHTS ELEMENTARY SCHOOL is located at 348 Hamline Avenue South, 55105.   It isn't clear to me, whether this school has a cell tower on top of it.  Creative camouflaging of towers is becoming adept at hiding hardware which is sometimes even installed under manhole covers to keep the public ignorant of their existence as they proliferate, asap.
This school has a suspicious structure on the roof that looks to be cheap and recent.  The building is old and this "smokestack" doesn't match it or fit with any normal use.  And the power supply coming in at that area is a likely confirmation.  Furthermore, no other cellphone towers are in sight, nor are there any other spaces for them within several blocks in all directions.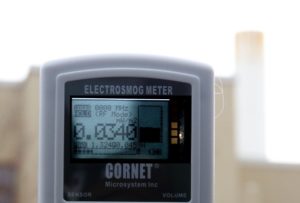 The meter sensor produced the RF peak reading when aligned with this 'smokestack' structure for analysis.  Peak RF reading is 1.32 mW/m2, which IS higher than it should be for the area.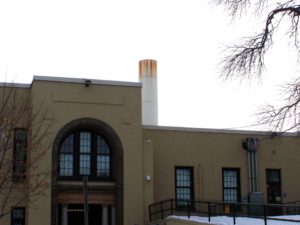 ---
ST. PAUL PUBLIC SCHOOLS, District 625  is located at 360 Colborne Street in Saint Paul, 55102.  This building has visible masts on two of the roof corners.
Reading Date:  November 20, 2019      Time:  3:30 pm    Peak RF:  6.94 mW/m2.
---
ST. PAUL ACADEMY AND SUMMIT SCHOOL is a private school located at 1712 Randolph Avenue, 55105.  No cell towers are visible on the building.
Reading Date:  January 6, 2020    Time:  1:30 pm   Peak RF as measured in the front parking lot on Davern Avenue is  .0679 mW/m2.  This may be due to the tower at St. Catherine's, a block behind Drake Arena, pictured below on the right.