WEST SEVENTH STREET in Saint Paul is one of the first streets planned for the build-out of 4-5G by Verizon as shown on their map published 11-20-19.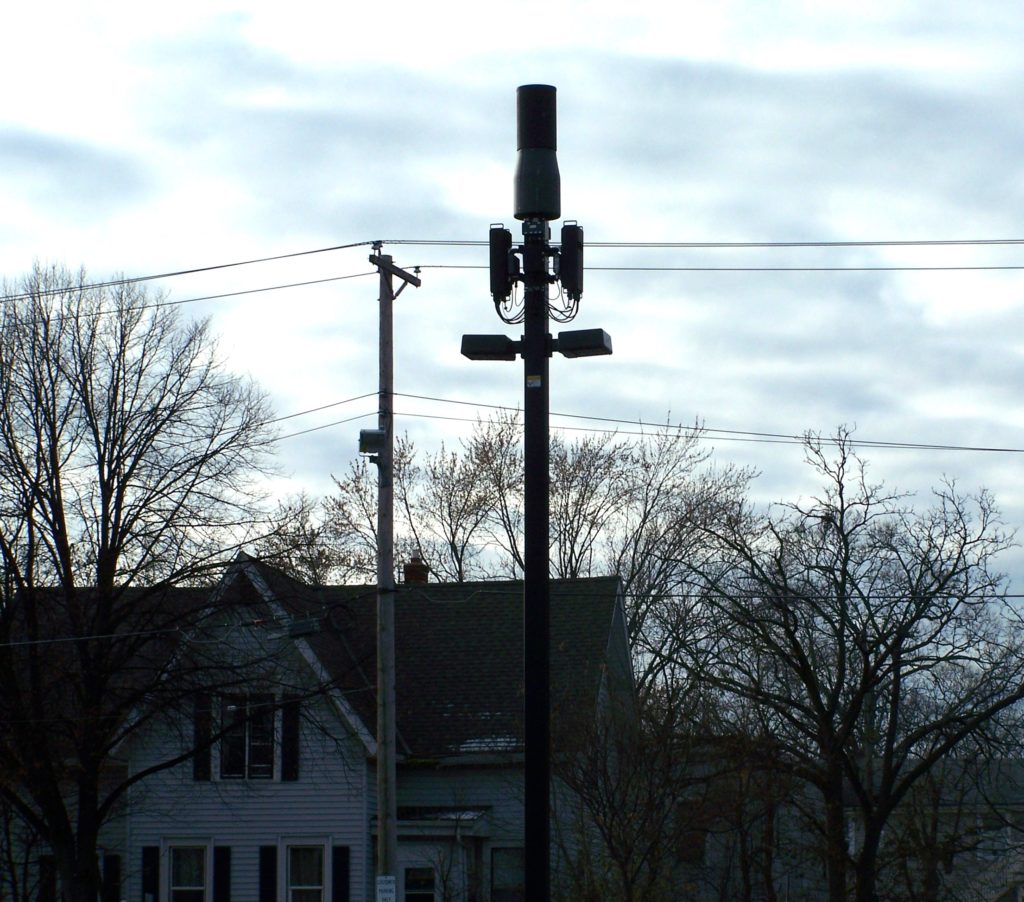 DeGIDIOS RESTAURANT is located at 425 – 7th St. W., St Paul, Minnesota 55102, and is one of the first establishments on West Seventh to sport a new 5G (or "4G Plus") tower right in its parking lot, just feet away from its entry door.
Date:  November 14, 2019       Time:  3:30 pm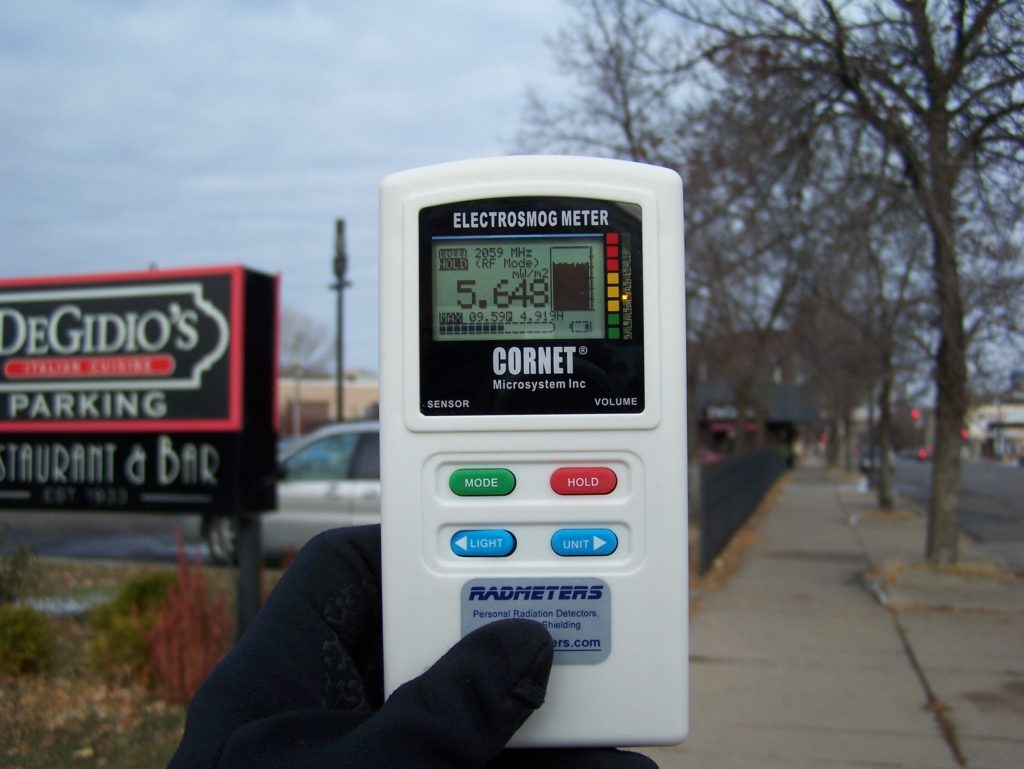 Measuring from about a half-block away, toward one of the transmitter faces, I got a peak RF reading of 9.59 mW/m2.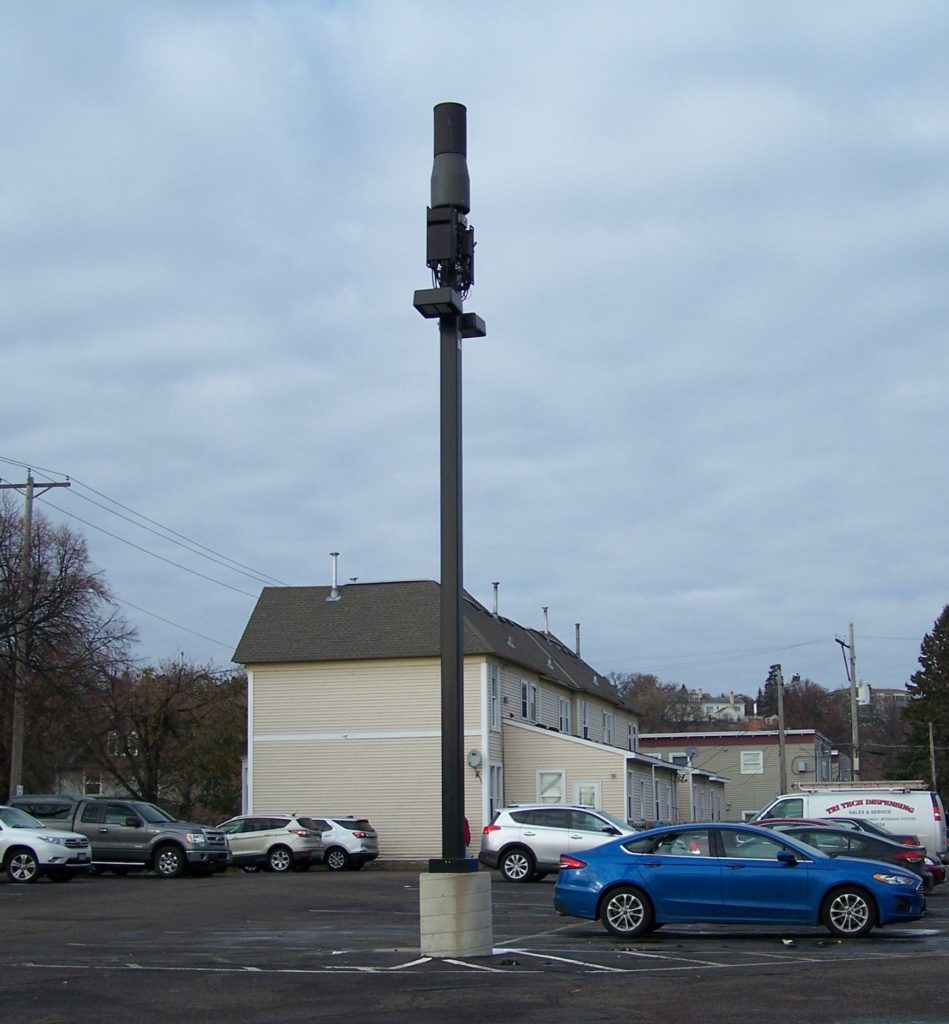 Reading 2:  November 20, 2019      4:30 pm
RF radiation peaked at 19.58 mW/m2.  A very high reading.  This is really bad news for the people who live in houses nearby.  It is serious, sickening radiation.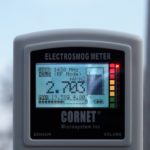 Sometimes humidity makes a difference, and where one is standing relative to the transmitters can affect the readings.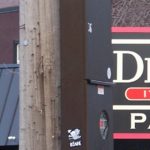 [Opinion:  People who are spending their days working near cell towers should consider walking away from their jobs.  It won't be long before bodies lose the battle for health while Big Pharma (which now includes Google) positions itself like a vulture with quick-fix profiteering strategies while trying to control and limit people's choices.]
---
A block or two south on Goodrich and West 7th are several small cells mounted on light poles.  I measured a peak RF reading of 4.09 mW/m2.  I was not in line-of-sight with the DeGidio's tower so chances are this is the correct level of radiation for the light pole.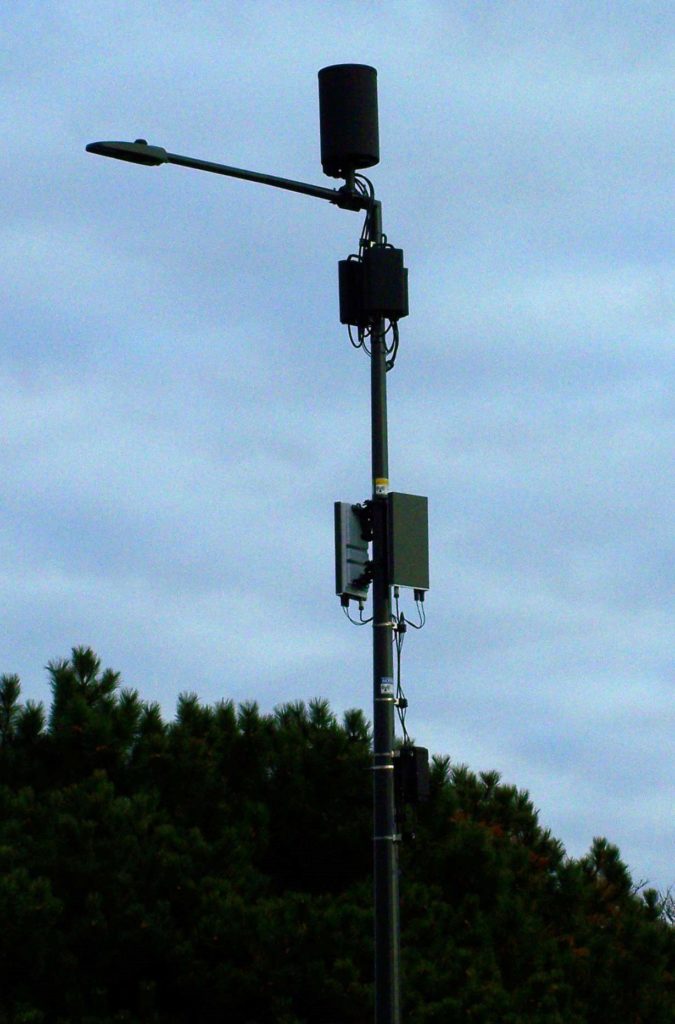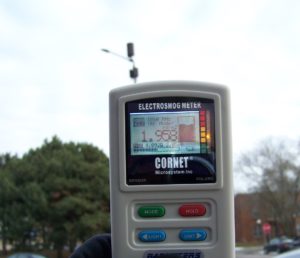 Another pole nearby measured low, at 0.959 mW/m2. 
And another measured 0.4591 mW/m2.   On the Building Biologists' scale for healthy living and sleeping environments, these are all within the "Severe" range of radiation toxicity.
---
Cell tower right by Seventh Street at the intersection of Grace and Erie is a trashy sight to behold, to the east as you cross the bridge.
Reading date:  November 20, 2019     Time:  4:15 pm     Peak RF reading of 9.16 mW/m2.  The radiation of this tower adds to the radiation soup by St. Paul Public Schools District 625, just a couple of blocks west, on the other side of the bridge — a sordid and energetically depressed area, weighed down by these harsh, unnatural energies.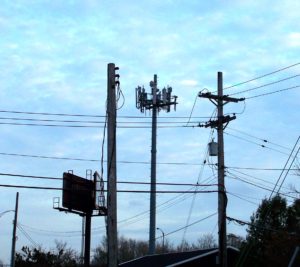 Read about the health effects of these radiation levels as studied and documented worldwide in the 2012 BioInitiative Report.